IMPLEMENTATION STRUCTURE AND MANAGEMENT
The structure for the implementation and monitoring of the Capital Market Master Plan as well as the various parties that are involved in this process are depicted below.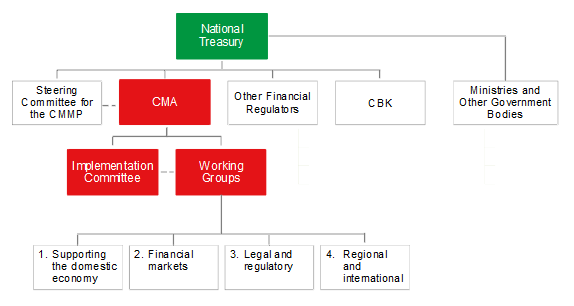 Download a copy of the Capital Markets Master Plan (2014-2023)
| | |
| --- | --- |
| Steering Committee | The steering committee is an interaction among senior officials such as the Cabinet Secretary, National Treasury; the Governor of the Central Bank of Kenya; The Attorney General; the CMA Chief Executive, ; other financial sector regulators (such as the RBA, IRA and SASRA) – which can be represented by the Financial Services Council, as well as the NIFC Steering Committee, the Chair of the Vision 2030 Secretariat, and any other Ministries that are affected by the implementation of the Master Plan. The Committee coordinates the development of Kenyan financial services sector through the implementation of the Capital masterplan by facilitating cooperation and implementation strategies among all relevant agencies and synchronises the communication of issues and developments in areas involving more than one jurisdictional authority. |
| Implementation Committee | The Implementation Committee chaired by the Chief Executive CMA, draws its members from the Capital Market Master Plan Steering Committee, as well as the expertise of industry participants and stakeholders, financial sector regulators, professional advisors, academia, specialist resources and Working Groups as necessary. The key responsibilities include functioning as the secretariat and coordinator of the implementation of actions as well as monitoring and evaluation of performance based on specific targets of the capital markets masterplan. |
| Working Groups | The four working groups comprise of representatives from relevant industry associations, market infrastructures, departments within the various financial sector regulators and a host of other market participants to address individual issues. The working groups are responsible for liaising and consulting with the various Government and regulatory bodies, industry associations and participants, professional bodies, and other affected stakeholders in the implementation of their specific actions. |
What are we looking for ?
ABOUT CMMP
The Capital Markets Master Plan (CMMP) is an industry wide blue print designed to chart the development of the capital markets for the next ten years between 2014-2023. The CMMP was developed through broad consultation with internal and external stakeholders, including international benchmarking with jurisdictions that have instituted financial sector reform strategies, attained International Financial Centre (IFC) and/or Gateway status or developed diversified and sophisticated capital market products and services.
The Master Plan forms a crucial guide in our journey to realize our vision to become "The Heart of African Capital Markets".

The CMMP has also been identified as a key flagship projects for the financial services sector for the second Medium Term Plan (MTPII) and the third Medium Term Plan (MTPIII) for Kenya Vision 2030 is to "Create a vibrant and globally competitive financial sector that will promote high level of savings to finance Kenya's overall investment needs.
CENTERS OF EXCELLENCE
---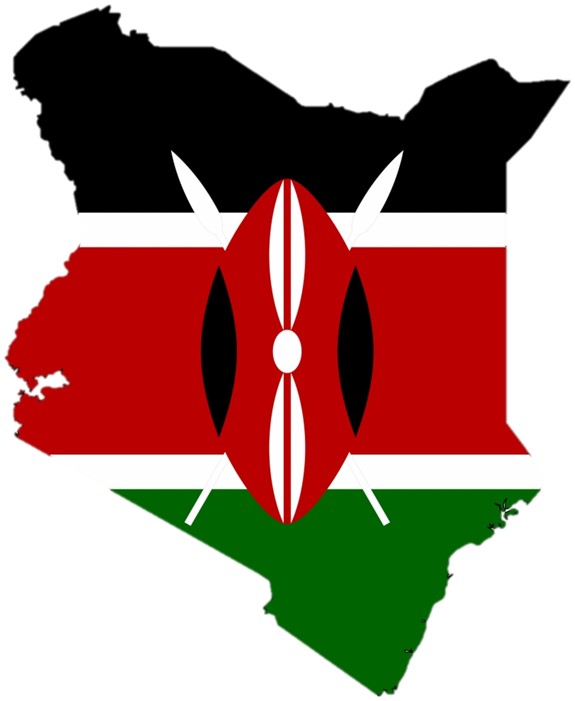 Commodities derivatives in agriculture, energy and minerals/metals
Construction and real estate development;
Technology services and financial inclusion
Infrastructure finance
Financial services that include, Islamic finance, asset management, and financial derivatives
FREQUENTLY ASKED QUESTIONS